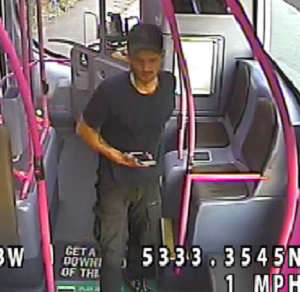 Police investigating the assault of two teenagers on a bus in Doncaster have released a CCTV still of a man they want to speak to.
On 15 June at around 8.50pm, a 15-year-old girl and a 16-year-old boy were on the 50B bus service heading towards Woodlands, Doncaster, when an unknown man boarded.
The police think the man behaved aggressively towards the teenagers, before touching the 15-year-old girl inappropriately and then grabbing the 16-year-old by the neck.
The suspect is then believed to have shown the teenagers a sheath of a knife that was hidden underneath his clothing.
The man is described as being white, aged between 20 and 30-years-old, wearing work-type clothing and is reported to have spoken in a foreign language.
The police are asking us to contact them via their live portal, live chat or by calling 101, quoting crime number 14/110180/22.
Or you can give information anonymously to independent charity Crimestoppers online or by calling 0800 555 111.